RED carpet media booths
Ron shuller's creative images photo & video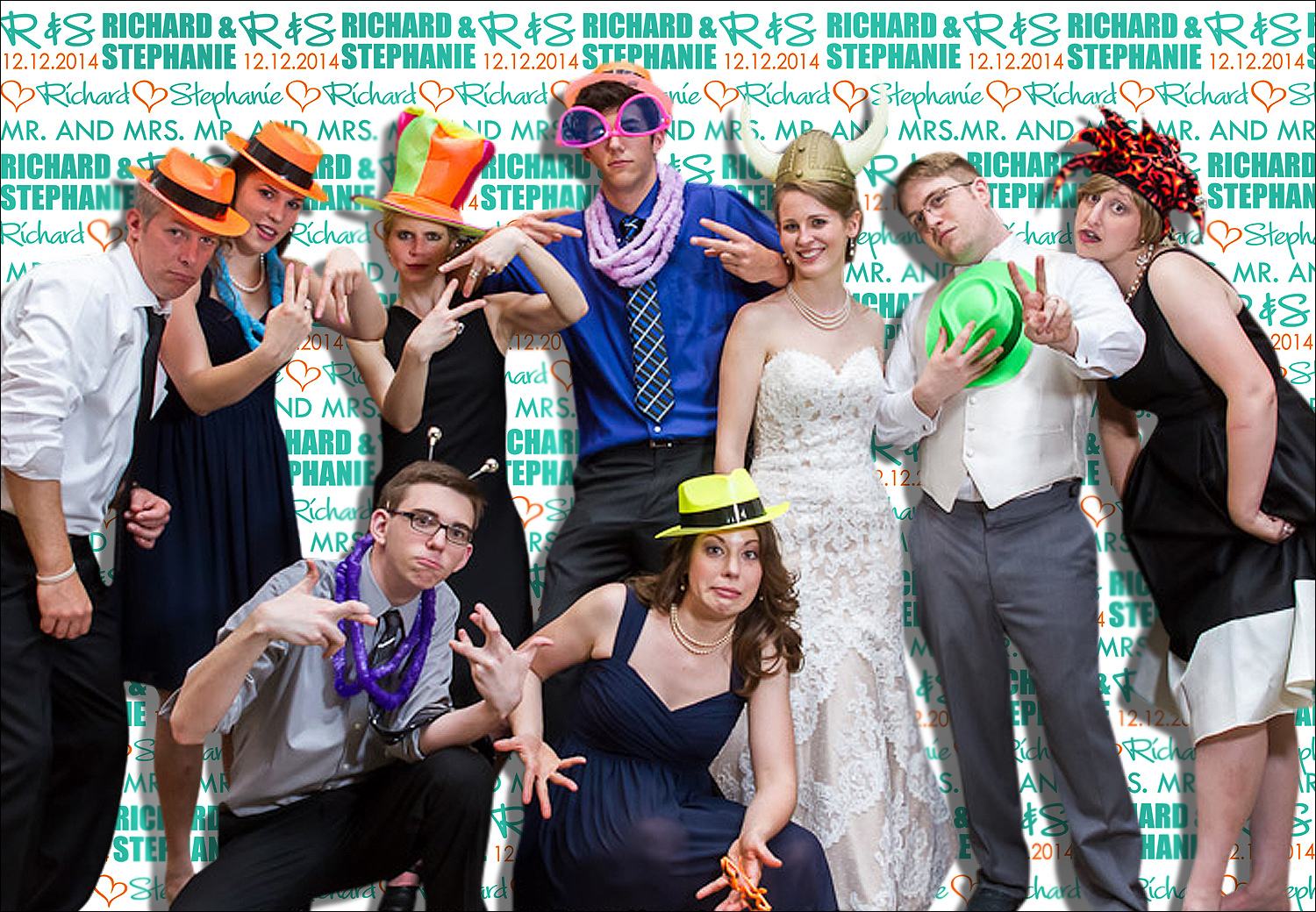 Your guests will feel like they're at the Academy Awards?
Red carpet "media" style photo booths are now the rage!
"Media"style backgrounds are different from the standard photo booth backgrounds and ones used with our Simple Booths.
You'll love your custom designed "media" background we've made just for you. It'll be like the one above with your names and other graphics on it.
Select from two "media" style design templates.
Or, we also offer a gold shimmer background without any text.

At the reception, your guests will select from our assortment
of party props and the fun begins!
A real live photographer does the picture taking.
A few minutes later, the photos are viewed on a kiosk.
From the kiosk, guests can decide to print large 4x6 photos, ready in just a few minutes.
Or, they can email photos to anyone they wish.
Finally, they can post photos to either Facebook or Twitter.

You receive a copy of all the files.
We'll do all of the work for you.
You'll love the EXCITEMENT and FUN created by our unique concept.
Your guests will be WOW-ED by something so different and new! 
- - - - - 

PRICE WHEN ACCOMPANYING A PHOTOGRAPHY OR VIDEO PACKAGE
- Media Booths are included in some packages.
- Also available added a la carte to any package
for only $795.
- - - - - 

PRICE WHEN PURCHASED ALONE WITHOUT A PHOTO OR VIDEO PACKAGE

- Media Booths are available when purchased alone for only $895.
_______________________________
Optional proof book can be purchased!.

_______________________________

From A Recent Bride:
"The media booth by Ron Shuller's Creative Images Photography is definitely a must have for your wedding.
Unlike other photo-booths, that can only fit a maximum number of people in the booth, Ron has allowed an open setting where you can get as many friends and family members as you want in every shot!"

"I was also so pleased with the props that came with the booth: masks, fans, boas, hats, & many more made dressing up for each picture a blast. I had so many friends and family members tell me what a great time they had dressing up, and posing for as many shots they wanted."
"Another added bonus to this photo-booth is that an actual photographer takes your photos!
This permitted for so many great shots that an ordinary booth would have missed. Having a photographer ensured that every picture was exactly how we wanted it!
Of all the photo-booths I have seen, and participated in at weddings this surpassed every one of them.
Not only did my husband and I have a blast taking pictures with our guests, but our guests still tell us
how much fun they had using the photo-booth by Ron Shuller's Creative Images Photography."
Morgan Gilligan (Wood)